Those watching Playlist: The Best of OPM concert on Friday, March 1, at the Smart Araneta Coliseum are in for some "firsts," one of them the casting of Joey Generoso, Jinky Vidal, Jay Durias, Juris Fernandez, Meds Marfil and Ice Seguerra that may never happen again.
Featured on the show is fast-rising singer Janine Teñoso who is performing her own share of hits like 241, Jealous, Bulong and Di Na Muli. There's also This Band (the group behind the current big-selling tunes Kung Ayaw Mo Na and Hindi Na Nga) that will open the show.
The six featured artists will be doing Pinoy pop songs like Mundo by IV of Spades, Buwan by JK Labajo, Maybe The Night by Ben&Ben and Kung Di Rin Lang Ikaw by December Avenue, plus medleys of songs popularized by their contemporaries like Alapaap, Ang Huling El Bimbo, With A Smile, Ligaya and Huwag Mo Nang Itanong by the Eraserheads; and 214, Hinahanap-hanap Kita, Himala, Liwanag Dilim and Ulan by Rivermaya.
Produced by Viva Live, the concert is directed by GB Sampedro, with Philippine STAR among the media partners. (For tickets, call Viva Live at 687-7236.)
Meanwhile, here are the artists and the songs that make them laugh and cry.
What song makes you cry and why?
• Jinky: Ang Awit Natin by Janine Teñoso. There's something about how the stanza words were written by Jazz Nicolas and Wally Acolada. It perfectly describes what you really go through when you try to forget an ex and somehow appreciate the experience. I specifically love the chord progression on the pre-chorus and chorus chords. That's where I just close my eyes and cry.
• Janine: Kailangan Kita by Gary V. It reminds me of my journey in joining TV5's Born To Be A Star where I was a finalist and I sang that song during the finale. Later on, through that competition, I was discovered by Viva. It reminds me of the hardships I experienced just to be able to get that far.
• Jay: A Love Song by Kenny Rogers because my dad used to sing it when I was growing up. When I grew older, it was only then that I understood the message of that song. Now that my father is gone, every time I hear that song, it gives me mixed sad emotions.
• Joey: Sa Ugoy ng Duyan. This song by Lucio San Pedro and Levi Celerio brings back so many memories of my childhood, especially the relationship I had with my mom while I was growing up, and with pursuing my dreams.
• Ice: Heart and Soul by Stephen Bishop. It talks about acceptance and letting go of the person you love the most.
• Meds: Gerard Salonga and FILharmonika's reworking of the True Faith song Muntik Nang Maabot Ang Langit. It sounds so melancholic, cinematic and glorious that it always moves me to the point of tears. Ang galing ng arrangement na it's like something that great composer John Williams would have created. It feels like it was lifted from a soundtrack of a Spielberg film.
• Juris: When the song This Is Me from The Greatest Showman came out, I get teary-eyed when I listen to it. The inspiring lyrics, arrangement and the singing make the song very emotional. I think, if not all, most of us want to be accepted for who/what we are and have the strength to face challenges.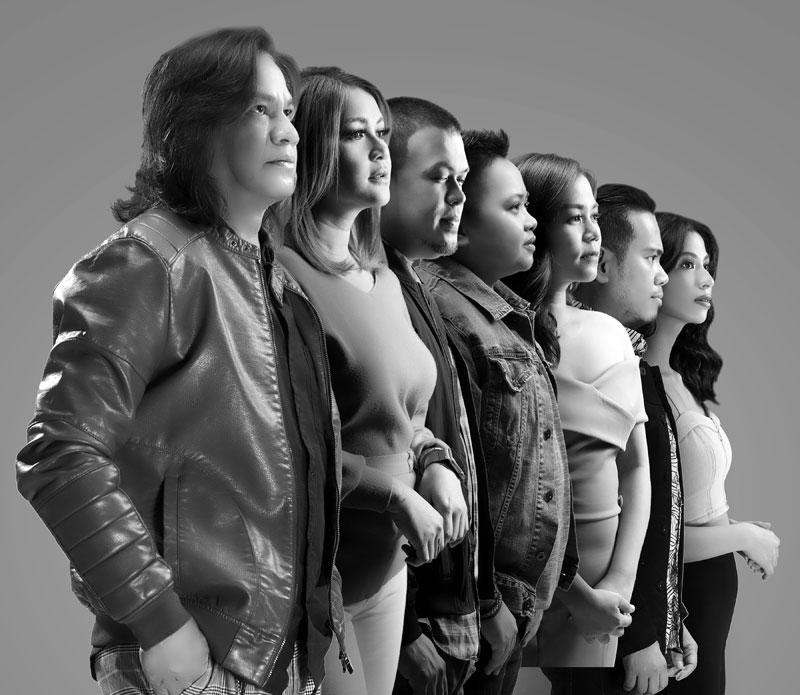 What song makes you happy and why?
• Jinky: Do My Thing. I love the mid-tempo arrangement and how this particular song was written. I love the dancing vibe and the word play of "Do My Thing" and "Dumating." It's about my daughter and how she basically changed my life. I wanted her to listen to it years from now, that I once recorded it to let her know how special she is.
• Janine: Fall. The first song that I composed that was released publicly. Every time I listen to my song, it brings me back to the moment when I was really grateful to God for giving me an opportunity to start my journey in sharing my own music to people.
• Jay: When my wife gave birth to our son, I was still in the US and she would send me pictures and videos of my son and he was adorable. It inspired me so much that I was able to write a song for him about the joy that he had brought to our family, especially to me when I was feeling very homesick. And every time I hear that song, I would always remember the happiness that I felt during that time. The title of that song is Wonderful.
• Joey: Forevermore is one of those songs that truly make me happy simply because up to now every time I sing it to my audience, I can see the impact of the song's entirety; the happiness it brings to their faces and the love it resonates through its melody and lyrics. You can see that they really do sing it with all their hearts. This song will always be a blessing to me and I will be forever grateful for it.
• Ice: Araw Gabi. Theme song namin ng asawa ko (Liza Diño).
• Meds: Hotdogs' Meow always makes me smile because like almost all of Hotdogs' songs, it is fun and playful. Plus, I'm a cat lover!
• Juris: Now That I Have You by the CompanY makes me happy even just thinking about it. It reminds me of my husband, may kilig factor. Also now, on some days, it makes me happy to listen to any songs that my kids like to listen to because I love looking at them smiling, singing or dancing along.
What kind of music don't you want to listen to and why?
• Jinky: Honestly, I can't listen to hard-core music/metal rock. I can't understand the noise…too much guitar distortion gives me a headache, not to mention the shouting from the rock singers. Basically, it's not music to my ears. I try to understand but it doesn't wanna get into my ears and my system. Hahaha!!!
• Janine: Punk rock music is the only genre that I don't listen to every day. Although I have liked some songs from other punk rock bands before. It's just that it was never something I would listen to for enjoyment. I would listen to it to learn from it though.
• Jay: I appreciate all kinds of genres that I don't mind hearing any type of music.
• Joey: As an artist, I usually appreciate all kinds of music, but I guess heavy metal is not my type of genre.
• Ice: Wala akong maisip.
• Meds: I don't think I can dig "viking metal." It's associated with white supremacy and I hate Neo Nazism/racism.
• Juris: Hard rock music because of the heavy sound and aggressive use of voice. I prefer easy-listening music because it's relaxing to me.
(E-mail reactions at [email protected]. For more updates, photos and videos, visit www.philstar.com/funfare or follow me on Instagram @therealrickylo.)
Philstar.com is one of the most vibrant, opinionated, discerning communities of readers on cyberspace. With your meaningful insights, help shape the stories that can shape the country. Sign up now!
source