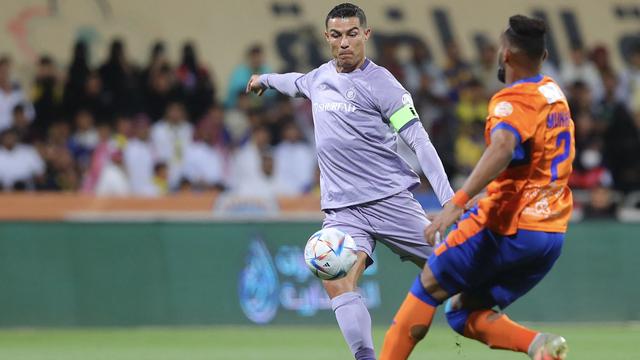 There is an interesting scene in the Saudi Arabian League match which brought together Al Feiha versus Al-Nassr. Al-Nassr, led by Cristiano Ronaldo, had to settle for sharing 0-0 in the Week 23 match of the Saudi Arabian League at Al Maimaah Stadium, Sunday (9/4/2023) evening local time.
That moment was Cristiano Ronaldo getting annoyed with a player from the opposing team.
Ronaldo's frustrations ran high at full time, with the forward angrily pointing and arguing with several opposing players, while also implying that the opponent, who are 11th in the standings, were wasting their time.
Ronaldo's annoyance
In the Al Feiha match against Al-Nassr, Ronaldo looked angry at his opposing players, even signaling one of the players to cover his mouth.
As he marched off the pitch, his team-mate and manager Rui Garcia continued to shake hands with the other team. Al-Nassr and Ronaldo may have regretted the chances to score they missed during the game.
Not First Time
But this is not the first time the 38-year-old has walked off the pitch in anger. Ronaldo has also shown his frustration kicking a water bottle and walking off the pitch after his side were beaten 1-0 by Al-Ittihad.
During that match, Ronaldo was also upset again after fans mocked him for shouting Lionel Messi's name. But it's also not the first time he has been jeered this season, with one young fan booing Ronaldo in the tunnel by saying that "Messi is better".
Ronaldo's gait
Cristiano Ronaldo has been heavily relied on by Al-Nassr since joining in the middle of this season. After a slow start in the Saudi Pro League, the former Manchester United man has started to score more goals this season, netting twice in his side's 5-0 win over Al Is.
CR7 has now scored 11 goals in 10 appearances for Al-Nassr, who currently sit second in the league. Al-Nassr has a strong determination to overthrow Al-Ittihad and win the competition this season.
Furthermore, Al-Nassr will face Al-Hilal on Tuesday (19/4/2023).