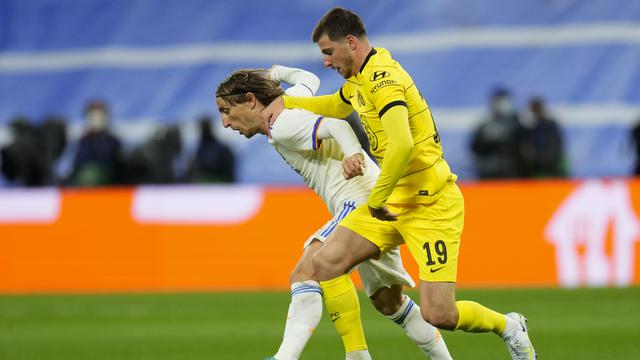 4 Chelsea Players On Real Madrid's Wanted List: Majority Midfielders
At the brink of the summer transfer window, Real Madrid is reportedly hunting for fresh midfield talent from Chelsea. If rumors are to be believed, Madrid are looking to acquire 4 Blues players with a majority of them being midfielders.
Real Madrid Hunting for Midfield Magic at Chelsea
For Los Blancos, the ongoing economic crisis has forced them to remain cautious when it comes to assembling their dream team. However, they are still willing to make some bold moves, and that could mean an exodus from Chelsea for as many as 4 prominent players.
While the Blues haven't won any of the domestic trophies in recent seasons, they do have an impressive squad full of talent. After all, the multiple-time Premier League champions earned Champions League qualification this season, so their players clearly have potential. With that in mind, Madrid could find joy in the form of the Blues if their proposed transfer moves are successful.
Four Blues Under the Maelstrom of Transfer Talk
At the moment, midfielders Mason Mount, Jorginho, Tiemoue Bakayoko, and at least one defender are being linked to Madrid. Here's a little more information on each individual:
Mason Mount: The English midfielder is believed to have caught the eye of Madrid scouts after a very prolific season. With 13 goal contributions, 4 goals, and 6 assists, Mount has already solidified his name in Chelsea's history books.
Jorginho: Jorginho has been linked to Madrid for a while. The 28-year-old Italian midfielder is probably the best passer in the Chelsea squad. He has also proved to be versatile as he often plays further back in midfield in order to provide defensive coverage.
Tiemoue Bakayoko: Bakayoko has been out of favor for a long time, but he has still managed to prove himself whenever he is called upon. His excellent tackling and passing ability makes him the perfect candidate for the renowned Madrid midfield.
At least one defender: Though the name of the defender hasn't been disclosed yet, reports suggest that Madrid are looking to shore up their backline by signing another defender from Chelsea.
It remains to be seen if Madrid's transfer plans come to fruition, but with their money, scouting network, and the Blues' own ambitions, it is certainly within the realm of possibility.
As such, it is worth keeping an eye on the situation to see if Madrid's apparent transfer targets actually make the move this summer. That way, we'll know exactly how Chelsea plans to retool their squad for next season – with or without Madrid's help.
In conclusion, Real Madrid are reportedly eyeing up some of Chelsea's best midfielders and at least one defender. Insiders suggest that Los Blancos are willing to cough up enough money to bring a majority of the Blues' players to Madrid. It is yet to be seen if this rumored transfer plan actually comes to fruition, but either way, the Blues' squad could look drastically different at the start of next season.